上記の広告は1ヶ月以上更新のないブログに表示されています。
新しい記事を書く事で広告が消せます。
Mr.Ishikura, who has been in charge of birds in the Tropical Aviary, is in charge of Gori the Great White Pelican too recently. He assists Gori in the show time when Mr.Sato, the best friend of Gori, is off.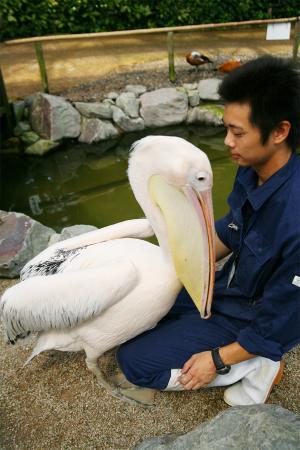 I dropped in at Gori in the early morning to take its picture. Usually sleeping after the show from 13:00 or in the late afternoon, Gori is active in the morning and follows the bird staff member. Gori is the largest bird in the Waterfowl Aviary, so other birds fly away as Gori comes near them. So it is very fond of playing with people.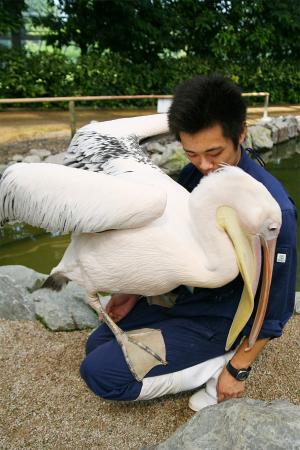 He jumped on the lap of Mr.Ishikura,



and Mr.Ishikura looked happy with Gori. However, Gori is so heavy that almost nobody can have it on one's lap for a long time.....



We show Gori close to the visitors first thing in the morning. Many visitors are impressed with soft feathers and extremely elastic bill pouch. These are worth touching.
スポンサーサイト